Spring-Summer 21 Collection: A Tale of Man & Nature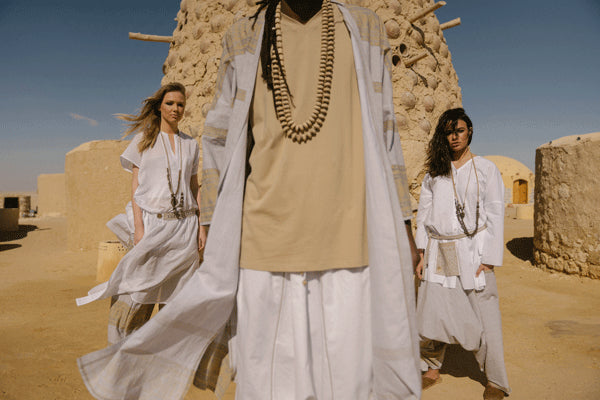 Our Spring-Summer 21 Collection is one for the old souls, with earthy colors and ground vibes, this collection is more serene in contrast to our previous Autumn-Winter collection.
Wherever humans go, the planet seems to lose a lot of its most valuable resources. This collection aims to shed light on the effect of the human race's consumption, how dangerous our footprint could be on mother earth and how we could co-exist and benefit from the planet while giving back and conserving resources.
Inspired by the life of nomads, this collection focuses on the most important journey one can take, one where nothing is to be found but one's self.
This limited-edition collection takes on this journey as well, produced in white, beige, blue, black and sand along with detailed embroideries and fabric prints and colors that's designed in-house that make them unique in the world.
In light of preserving nature's resources, MIX AND MATCH has always been anti-mass production, creating limited distinctive patterns designed and produced in-house that make this capsule collection a visual representation of simplicity.
In an attempt to highlight the importance of our surroundings, our team of workers, producers and designers have succeeded at creating free, airy pieces in vibrant, natural colors that make chic and comfortable go hand in hand. The pieces reflect on the importance of moving forward, with silence and patience.
The SS21 collection consists of more free layers that can be used in different ways and satisfy various styles. Each combination of items creates an entirely different outfit, fitted to each taste, yet still falls under the main aim of finding one's self without losing our innate connection to the earth.